Description
Dental Aluminum Oxide Micro blaster / Dental Alumina Air Polisher Abrasion Microetcher Sandblaster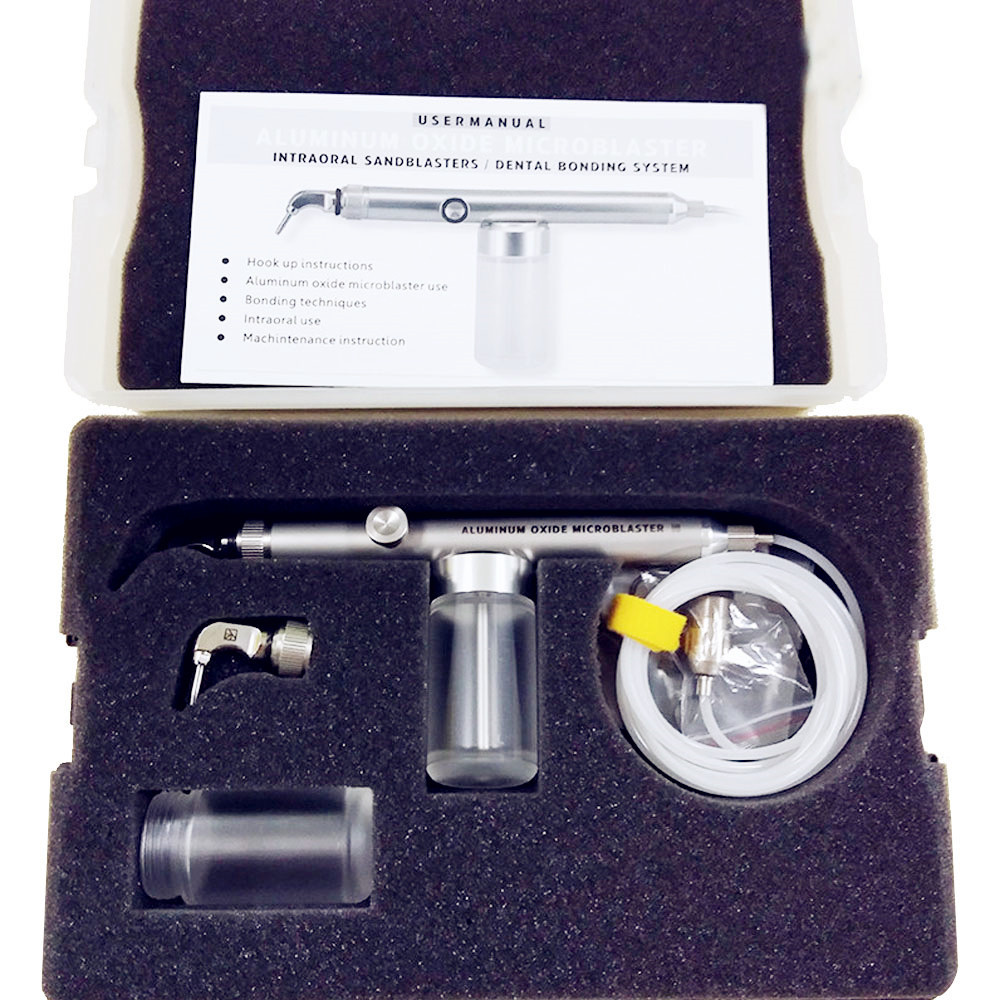 Description:
Alumina sandblasting gun
Alumina sandblast guns have proven to be the most valuable tools in the dental field thanks to their effective,
powerful effects and extensive application methods.
Alumina sandblasting guns provide precise surface micro-grain treatment that can increase adhesion up to 400%.
The surface that has just been etched is more active, so it can increase the chemical adhesion and optimize the bonding effect.
It can be applied to all metal materials, composite materials and ceramic materials.
Features & Benefits:
1. High quality stainless steel structure, solid and durable;Easy to use, quick and light in appearance
2. High-temperature and high-strength engineering material sand tanks to ensure a firm grip structure;
3. European machinery fine processing technology, high surface finish, easy to clean, more suitable for high temperature and high pressure sterilization;
4. Perfect design, precise and scientific distribution of the quality of each part;
5. The sand jar can be used as a handle grip, which is comfortable and convenient. As a sandblasting powder container,
the wall of the jar is dense, preventing the intrusion of moisture and other pollutions.
6. Gun side high sensitive touch switch, start and stop by the heart;
7. The nozzle can be rotated 360 ° design, any position can be accurately sprayed;
8. Convenience and gas connection;
9. Precise blasting direction and range;
10.European quality, accurate tolerances, seamless structure, and prevent loose parts from falling off.
11. This product can connect with global 4 or 6 hole teeth chair.
12. Product use for & # 65306; to increase the viscosity of the tactile surface, roughening
13. the surface of the metal composite material, crow porcelain, fiber post, inlay surface.
Technical specifications:
-100% brand new and high quality
-Link way: 4 or 6 hole teeth general autoclavable chair.
-Opertion air pressure: 0.3Mpa-0.4Mpa
-Sand quantity: 1.5g / min-3.59g / min
-Sandblasting hole: Φ0 & # 65294; 5mm
-Sandblasting head can rotate 360 °
extraoral application
-for surface cleaning and micro-roughening treatment before gluing
-metal / Porcelain
-Fiber post
-inlay / onlay
-maryland bridge
-orthodontic bracket
-remove the cement in the original adhesive layer before gluing
-prosthesis in molten metal detection defect
application in oral
in the repair treatment, micro roughen porcelain or composite surface.
Surface area increase experiment
The surface treatment of an alloy material with sandpaper, burs, and sand guns showed that the bur treatment increased the surface area to 120%.
Sandpaper treatment can increase surface area to 140%, while blast gun treatment can increase surface area to 400%
Package Included:
1 x Alumina sandblasting gun
1 x handpiece connector (1.8m flexible tube/four-hole joint)
2 x powder jar
1 x Steel Needle(60°)
4 x Rubber plug